Genmark Clip-on Gensets
Trademark is your supplier of Genmark Clip-On gensets for reefer containers. We are able to supply new and used Genmark Clip-On gensets. The Genmark gensets are known for it's low fuel consumption in reference to it's competitors. The Genmark genset can reduce your fuel usage by 20% with the "By-Pass function". The By-Pass function allows the genset to function without the electronics, which saves fuel.
Trademark makes it possible to equip the Clip-On gensets with a "Pin-Mount" mountingsystem. Upon request we are able to equip the Clip-On gensets with a "Clamp-Mount" mountingsystem. These mountingsystems guarantee fast assembly of the Clip-On genset to the reefer container. Which system you need depends on the type of the container, we will advise you with pleasure.
We make sure to provide a short time of delivery of Genmark Clip-On gensets and service will be available all day long.
Below, the technical specifications for the Genmark Clip-On genset.
Size:

2355 x 665 x 1070 mm

Power:

17kW

Weight:

700 kg

Decibel:

70dB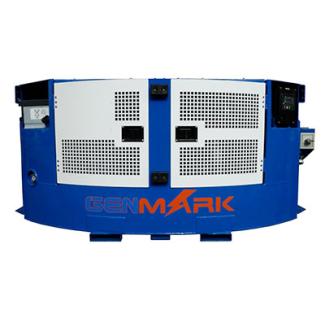 Controller
Automatic ''Pre-Heat'' Start / Alarm List / Alarm Reset / Running Hours / Voltage Check
Remote Monitoring
Optional
Service Interval
1000 Hours
Tank Capacity
370 Liter
Fuel Consumption
20% less fuel compared with Carrier and ThermoKing
Options
Larger Fuel Tank
Motor Type
Cummins, Kukje
Forklift Pockets
✔
Back